John Lydgate and The Life of Saint Edmund
John Lydgate and The Life of Saint Edmund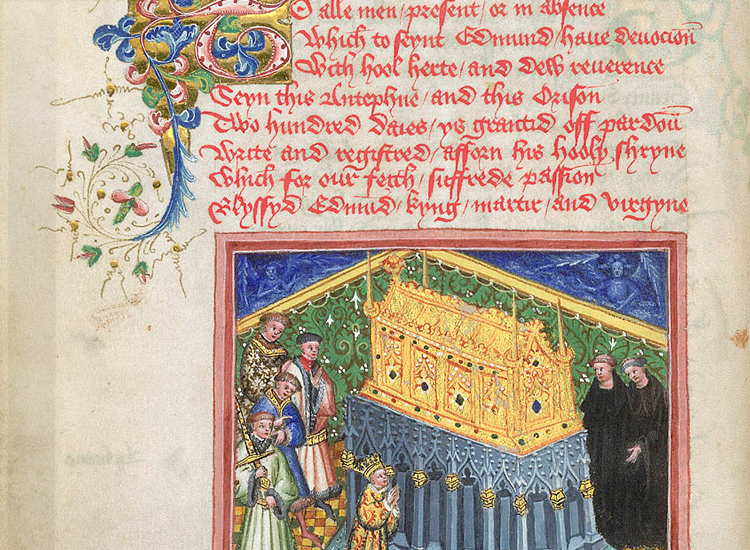 John Lydgate was a monk at the Abbey of St Edmund.  He was born around1370, and died in 1449 or 50. There is a stained glass image of him shown below.
In 1433 the young King Henry VI (just eleven years old) spent Christmas through Easter at the abbey of Bury St Edmunds. In honour of the visit the abbot William Curteys commissioned an English version of the Life of the abbey's patron saint from one of the abbey's monks, the author and poet John Lydgate (b. c.1370, d. 1449/50?). Lydgate combined the story of Edmund's life with that of a more obscure saint, Fremund, supposedly Edmund's nephew.
John Lydgate's version of the story of St Edmund has some slight variations to other versions. His account is largely based on an early 13th-century version of the story by Roger of Wendover (d. 1236). Although Lydgate described his work as a 'translacion' [translation] (f. 7v, l. 135), the poem isn't a translation of a single source. 'Translacion' is one of the words which Middle English writers used, often loosely, to describe their work.
The poem is written in seven-line stanzas known as 'rhyme royal'. This is a verse form made popular by Lydgate's contemporary Geoffrey Chaucer, who used it for the Prioress's Tale and the Second Nun's Tale. Lydgate's use of this poetic form is just one of the ways that he paid homage to Chaucer, who he saw as his 'maister' [master] and the first great English poet.
This lavish and heavily illustrated copy of the text — it has 118 painted illustrations — was probably written under Lydgate's direct supervision at the abbey as a presentation copy for the King. It is one of only a few surviving copies of the Life, and the most copiously illustrated.  Although the shrine of Edmund, shown in the image, has long since disappeared, in design it appears very similar to that of Edward the Confessor, still beyond the high altar in Westminster abbey today.
Because of these amazing, elaborate images, the manuscript has a claim to be one of the most important illustrated Middle English manuscripts in existence.
View the entire manuscript of the Lives of Saints Edmund and Fremund on the British Library manuscript viewer here.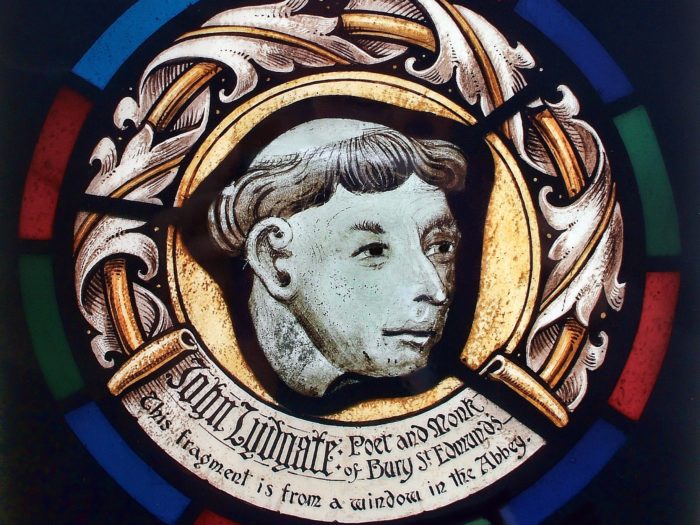 John Lydgate stained glass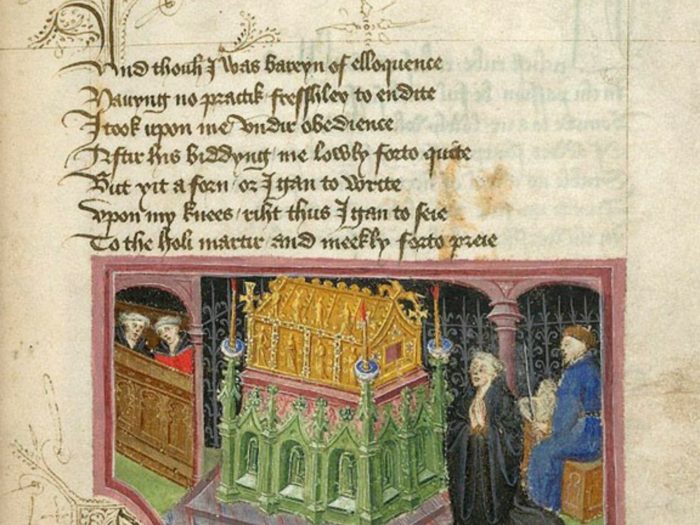 John Lydgate praying at the shrine of Edmund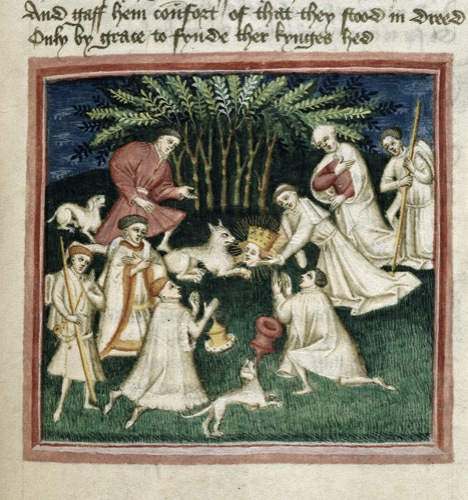 Edmund's head is found