Unfortunately, the Covid-19 pandemic has halted the plans for the Millennium Celebrations of the foundation of the Abbey of St Edmund in 2020, but most of these will now be carried over to 2022.
The Abbey 1000 Coordinating Group, including many local organisations and local businesses across the town, has rearranged its exciting programme of events to run from April to November 2022.  It has already secured a substantial grant from the Heritage Fund together with funding from local authorities and local corporate sponsorship.

Key events planned to date are listed below:
Please note that some are subject to funding, and many more are anticipated as the year progresses.
April 2022
Abbey of St Edmund Anniversary Tours – April-October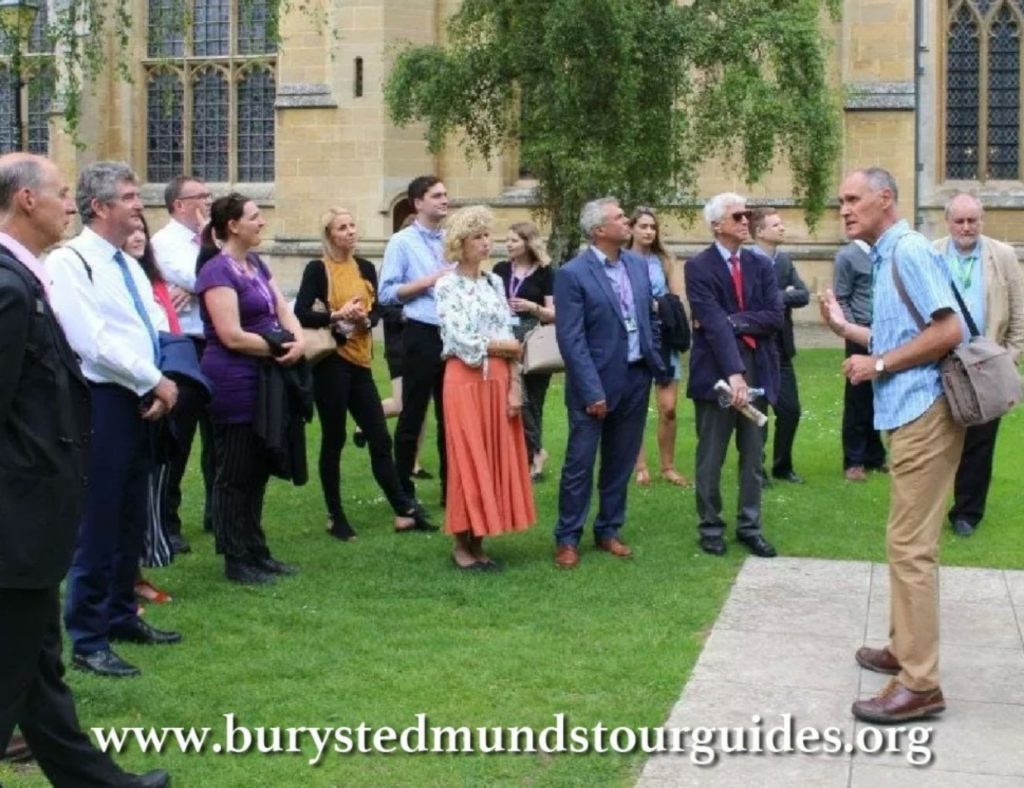 Bury St Edmunds Town Guides' season of daily town walks runs from April to October alongside tours focusing on various aspects of the Abbey and St Edmund.These bring to life the significance and enormity of the Abbey, shedding light on what life was like for those living within its walls as well as for those on the outside. Special tours have also been devised for children. www.burystedmundstourguides.org.
May 2022
Abbey 1000 Heritage Trail – 21 May-20 November
Our Bury St Edmunds BID and historian and author Martyn Taylor have created a brand new Abbey 1000 Heritage Trail around the town centre for 2022. The trail will run from 21 May to 20 November.
Abbey 1000 Sculpture Exhibition – May-November
A monthly changing display of sculptures will be on display between May and November in the crypt within the Abbey ruins, where the shrine of St Edmund would have stood. Schools and artists are being invited to create the artworks on a theme of the story of the Abbey and St Edmund. The first sculpture to be installed will be a giant Monk (7ft 6ins tall) made from 2mm thick steel and weighing some 250kg designed by Nigel Kaines and made by blacksmith Kevin Baldwin from Designs on Metal.
 Exhibition of Abbey Manuscripts in Cathedral Treasury – 2 May-9 June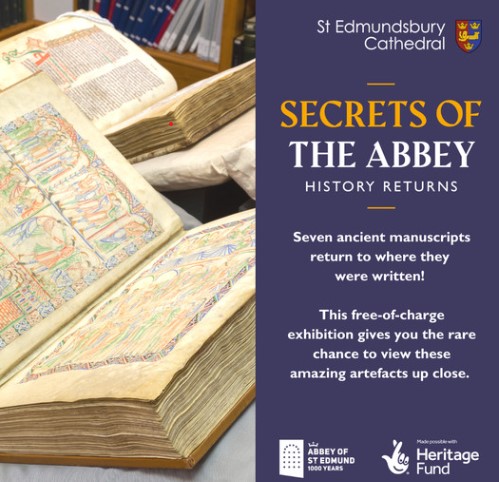 Seven manuscripts from the Abbey Scriptorium are being reunited for the first time in their place of origin since 1539. Written and decorated by hand by monks in the Abbey, they will be displayed in the Cathedral Treasury. The manuscripts are on loan from Pembroke College, Cambridge where they were donated by William Smart (Portreeve of Ipswich) in 1599. The exhibition will run from 2 May until 9 June.
Pilgrimages from St Benet's, Norfolk and Ely
A group of walkers will be making a pilgrimage from St Benet's, Norfolk to Bury St Edmunds arriving on 14 May. King Canute founded Benedictine monks at St Benet's Abbey in 1019; Uvius, the first Abbot at the Abbey of St Edmund (1020-1044) came from St Benet's accompanied by 20 monks, believed to be 13 from St Benet's and seven from Ely.   Another pilgrimage group will walk from Ely to Bury St Edmunds in the spring to mark this historic anniversary.
Abiding Wisdom – Gathering of Benedictine monks and nuns in Cathedral and Abbey ruins – 14-15 May
One hundred Benedictine monks and nuns from communities across Britain, including the Isle of Wight and possibly from abroad, will gather in Bury St Edmunds for the first time in 500 years since the dissolution of the monasteries. They will be joined by 400 other people; Rowan Williams, former Archbishop of Canterbury, will also be attending. They will join a procession into the ruins of the Abbey Church; there will also be talks and workshops in the Cathedral and Ecumenical Vespers with monastic chanting. Abiding Wisdom takes place on May 14 and 15.
Bury St Edmunds BioBlitz – 20-21 May
Bury Water Meadows Group will invite nature lovers and budding ecologists to join in a hunt for as many species of plant, insect and animal that can be found in the Abbey precinct. Specialists in everything from buttercups to bumble bees to bats will be on hand to confirm findings, give demonstrations and lead guided walks and activities. The BioBlitz takes place in and around the Abbey Gardens and Water Meadows, on May 20 and 21.
Abbey 1000 Concert – Elgar's Enigma Variations and the Abbey 1000 Commission – 28 May
The Suffolk Philharmonic, Suffolk's professional orchestra, will present the Abbey 1000 Concert; Elgar's Enigma Variations, including the best-known 'Nimrod', will be played as well as an attractive new work specially commissioned for Abbey 1000, Into The Light by composer Paul Carr. The programme also includes Benjamin Britten's Fanfare for St Edmundsbury and Parry's I Was Glad.
June 2022
St Edmundsbury Cathedral Flower Exhibition – 20-29 June
Themed to mark the 1,000-year anniversary, the Cathedral will hold a flower exhibition from 20 to 27 June.
Schools Celebration – 29 June
An Education Heritage project led by Community Artist and Educator Louise Gridley will culminate in a Schools Celebration event in the Abbey Gardens in Bury St Edmunds on 29 June. There will be performances and a historical themed parade in the town.
Churches Together Summer Celebration – 26 June
Churches from across Bury St Edmunds and surrounding area will come together to celebrate Jesus Christ, in unity, worship and public witness on 26 June. Churches Together is made up of 50 churches representing around 12 Christian denominations.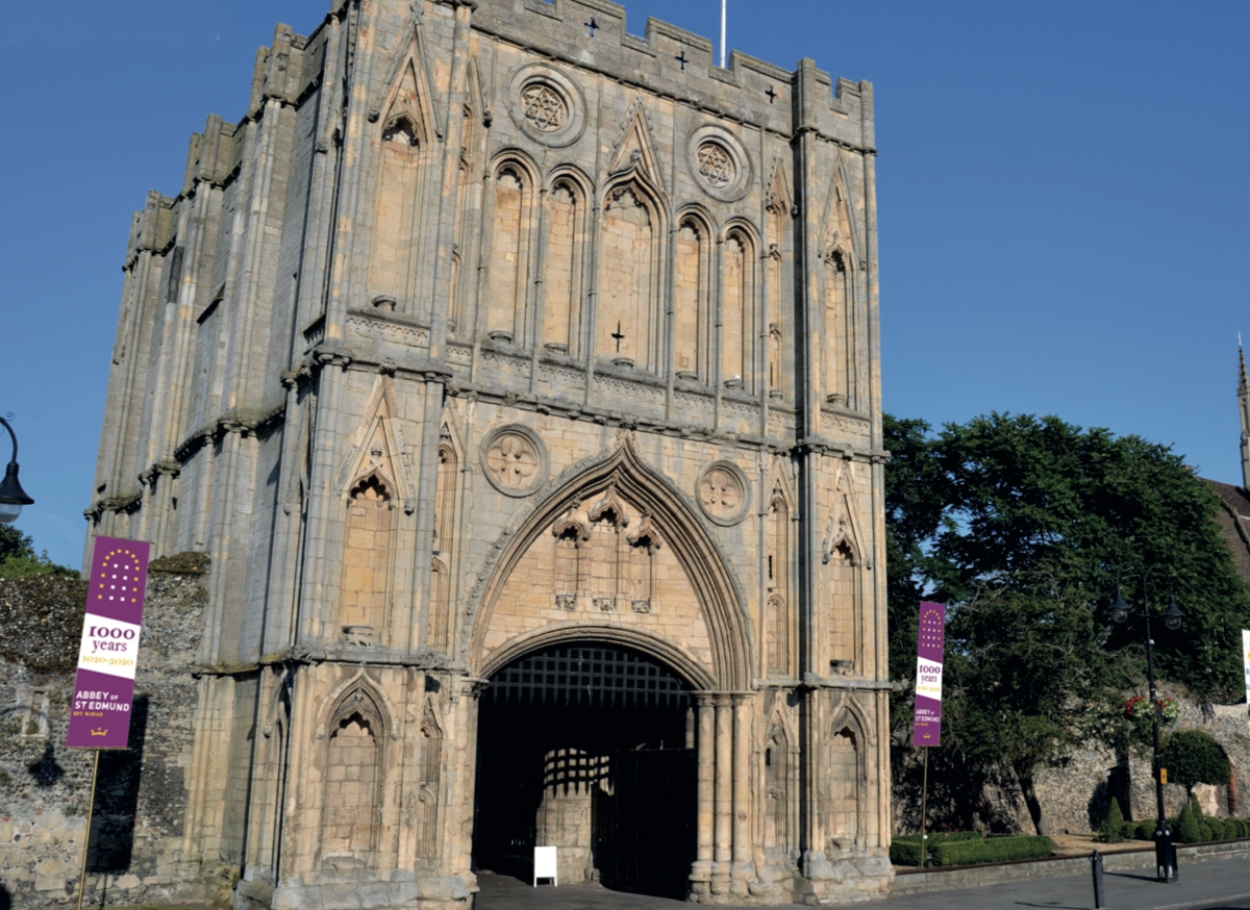 July 2022
The Abbey of St Edmund: Artisan and Pilgrimage Exhibition – Moyse's Hall Museum – 1 July – 30 September
A new exhibition is being planned at Moyse's Hall Museum which will help tell the story of St Edmund and the Abbey. 'The Abbey of St Edmund: Artisan and Pilgrimage' will include original stained glass, new stained glass and original pilgrims' badges.  There will also be touch screen displays, loans from national, private and regional collections and family workshops and master classes in medieval craft skills. The exhibition will run from 1 July 1 to 30 September.
Picnic in the Park – 16 July
A community picnic in the Abbey Gardens to celebrate the 1000 year anniversary of the founding of the Abbey of St Edmund. The Celebrations for All project will allow hundreds of people with mobility issues to take part. The event will take place on 16 July.
 November 2022
2022 St Edmund Lecture – 19 November
The St Edmund Lecture takes place on 19 November. Guest lecturer to be announced.
 St Edmund's Day Finale and Spectacle of Light – 17-20 November
A three evening Spectacle of Light show projecting images of illuminated manuscripts from the Abbey onto historic buildings plus a light trail through the Abbey ruins in partnership with West Suffolk College from 17-20 November.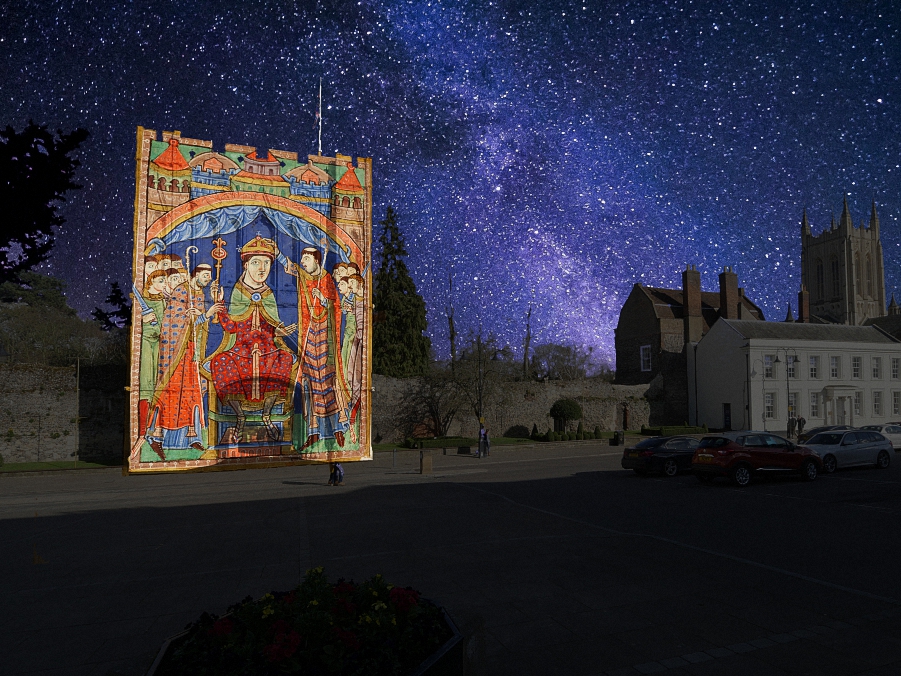 Ongoing Projects
Abbey of St Edmund and Shrine of St Edmund in CGI
A fly through video of the Abbey of St Edmund ruins showing how the great Abbey Church and the Shrine of St Edmund would have looked during its heyday is being produced using cutting edge CGI as part of the marketing for the celebratory year.
Abbey of St Edmund Heritage Partnership
A new visitor leaflet and map for the Abbey of St Edmund and an enlarged version of the map of the ruins for the Abbey Gardens is being produced by the Abbey of St Edmund Heritage Partnership. Further research projects will also be looking into the history of the Abbey ruins.
Greene King Brewery
Greene King Brewery will be celebrating the milestone with Abbey 1000 activity around its famous Bury St Edmunds brewed beer, 'Abbot Ale'.
Abbey 1000 Commemorative Beer
The Old Cannon Brewery in Bury St Edmunds is producing a special commemorative beer to celebrate 1000 years since the Abbey's founding.
Travelling Exhibition
A travelling exhibition will tour heritage attractions, cultural venues, local schools, the college and the town centre during the Abbey 1000 celebrations and again in future years.  It will explain the heritage of the Abbey of St Edmund and encourage people to visit the Abbey ruins that remain today to understand the history of the last 1000 years.  The exhibition will have five pop-up banners for a general audience and two more banners for young children; it will also be available to everyone online.  The main banners will tell the story of St Edmund, outline the development of the Abbey, explain the dissolution and describe recent archaeological and architectural investigations.
The two banners for children will summarise the life and legend of St Edmund, the importance of the Abbey and everyday life in the Abbey in the medieval period. All the banners are being produced by Dr Richard Hoggett who wrote the Heritage Assessment of the Abbey for the Abbey of St Edmund Heritage Partnership.
For the most up-to-date information on the Abbey 1000 celebrations visit our website at www.abbeyofstedmund1000.co.uk