Unfortunately, the Covid-19 pandemic has halted the plans for the Millennium Celebrations of the foundation of the Abbey of St Edmund in 2020, but most of these will now be carried over to 2022.
The Abbey 1000 Coordinating Group, including many local organisations and local businesses across the town, is rearranging its exciting programme of events to run from April to November 2022.  It has already secured a substantial grant from the Heritage Fund together with funding from local authorities and local corporate sponsorship.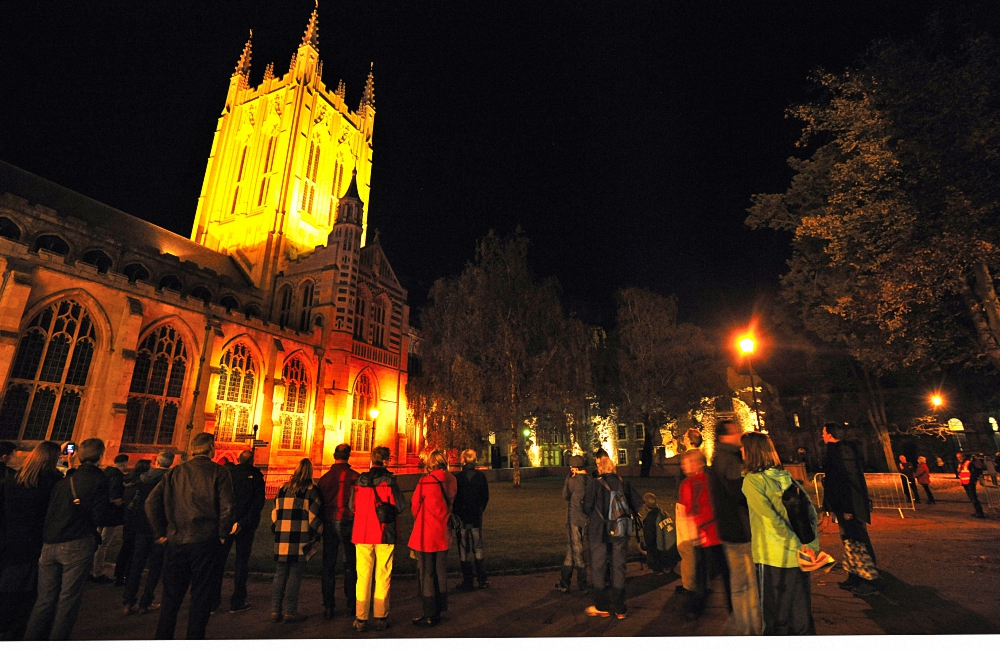 Key events planned to date are listed below:
Please note that some are subject to funding, and many more are anticipated as the year progresses.
2020
A Night Before Christmas Dinner – Thursday 28 November
A charity fundraising dinner hosted by the Lord Lieutenant of Suffolk, Lady Clare Countess of Euston at St Edmundsbury Cathedral in aid of the Abbey 1000 chosen charities, namely St Nicholas Hospice Care, St Elizabeth Hospice and EACH (East Anglia's Children's Hospices).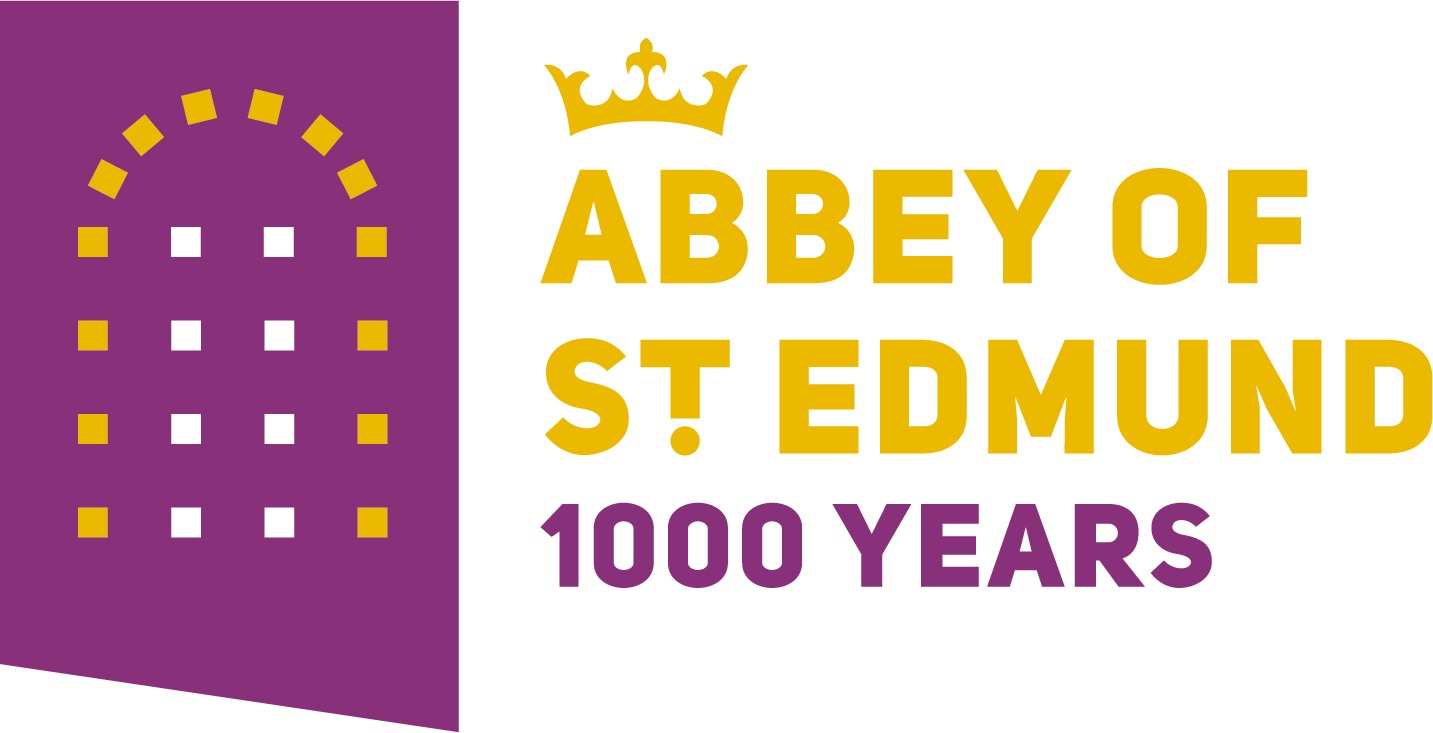 2021, postponed now to 2022
1000 Years Mosaic Community Art Project at the arc shopping centre
The arc shopping centre is inviting the public to help create a large community mosaic to celebrate the 1000th anniversary. People will be asked what they think should be featured in the mosaic and to bring along something to be added as well as create parts of the design. It will be displayed at the arc from February to November with an unveiling of the finished artwork on St Edmund's Day, Friday 20 November 2020.

Abbey of St Edmund Anniversary Tours – April 2020 onwards
Bury St Edmunds Town Guides will introduce four new tours when the season starts in April dedicated to the Abbey and St Edmund. They will explore the lives of the Abbots; the legend of St Edmund; specific details of the Abbey and life during monastic times. In addition, the daily and special themed tours will continue until 31 October 2020, www.burystedmundstourguides.org.
Bury St Edmunds Festival – 15 to 24 May
The annual Bury St Edmunds Festival  will honour the 1000th anniversary with two special concerts:
Bury Bach Choir (Messiah) – Saturday 16 May
The Bury Bach Choir will perform Handel's most famous work, Messiah, at St Edmundsbury Cathedral accompanied by Norwich Baroque and soprano Fae Evelyn, mezzo-soprano Valerie Reid, tenor Austin Gunn and bass Graeme Danby. One of the best-known choral works in western music, Messiah was first performed in April 1742, with a scriptural text complied by Charles Jennens from the King James Bible and the psalms included in the Book of Common Prayer. Jennens' text is an extended reflection on Jesus as the Messiah, providing a fitting contribution to the Abbey 1000 celebrations, having been performed many times in the Cathedral.
St Petersburg Symphony Orchestra – Wednesday 20 May
After many years, St Petersburg Symphony Orchestra will be making a return visit to St Edmundsbury Cathedral playing a programme of Sibelius, Tchaikovsky and Prokofiev conducted by Ben Palmer, a former pupil of King Edward VI School in Bury St Edmunds.
Pilgrimage from St Benet's, Norfolk and Ely – Friday 22 May
Twenty people will be making a walking pilgrimage from St Benet's, Norfolk and Ely, Cambridgeshire to Bury St Edmunds arriving on Friday, 22 May. King Canute founded Benedictine monks at St Benet's Abbey in 1019; Uvius, the first Abbot at the Abbey of St Edmund (1020-1044) came from St Benet's accompanied by 20 monks, believed to be 13 from St Benet's and seven from Ely.
Gathering of Benedictine monks and nuns in Cathedral and Abbey ruins – Sat. 23 and Sun. 24 May
One hundred Benedictine monks and nuns from communities across Britain, including the Isle of Wight and possibly from abroad, will gather in Bury St Edmunds for the first time in 500 years since the dissolution of the monasteries. They will be joined by 400 other people; Rowan Williams, former Archbishop of Canterbury, will also be attending. They will join a procession into the ruins of the Abbey Church; there will also be talks and workshops in the Cathedral and Ecumenical Vespers with monastic chanting.
Exhibition of Abbey Manuscripts in Cathedral Treasury – Saturday 23 May to Friday 17 July
Seven manuscripts from the Abbey Scriptorium are being reunited for the first time in their place of origin since 1539. Written and decorated by hand by monks in the Abbey, they will be displayed in the Cathedral Treasury. The manuscripts are on loan from Pembroke College, Cambridge where they were donated by William Smart (Portreeve of Ipswich) in 1599.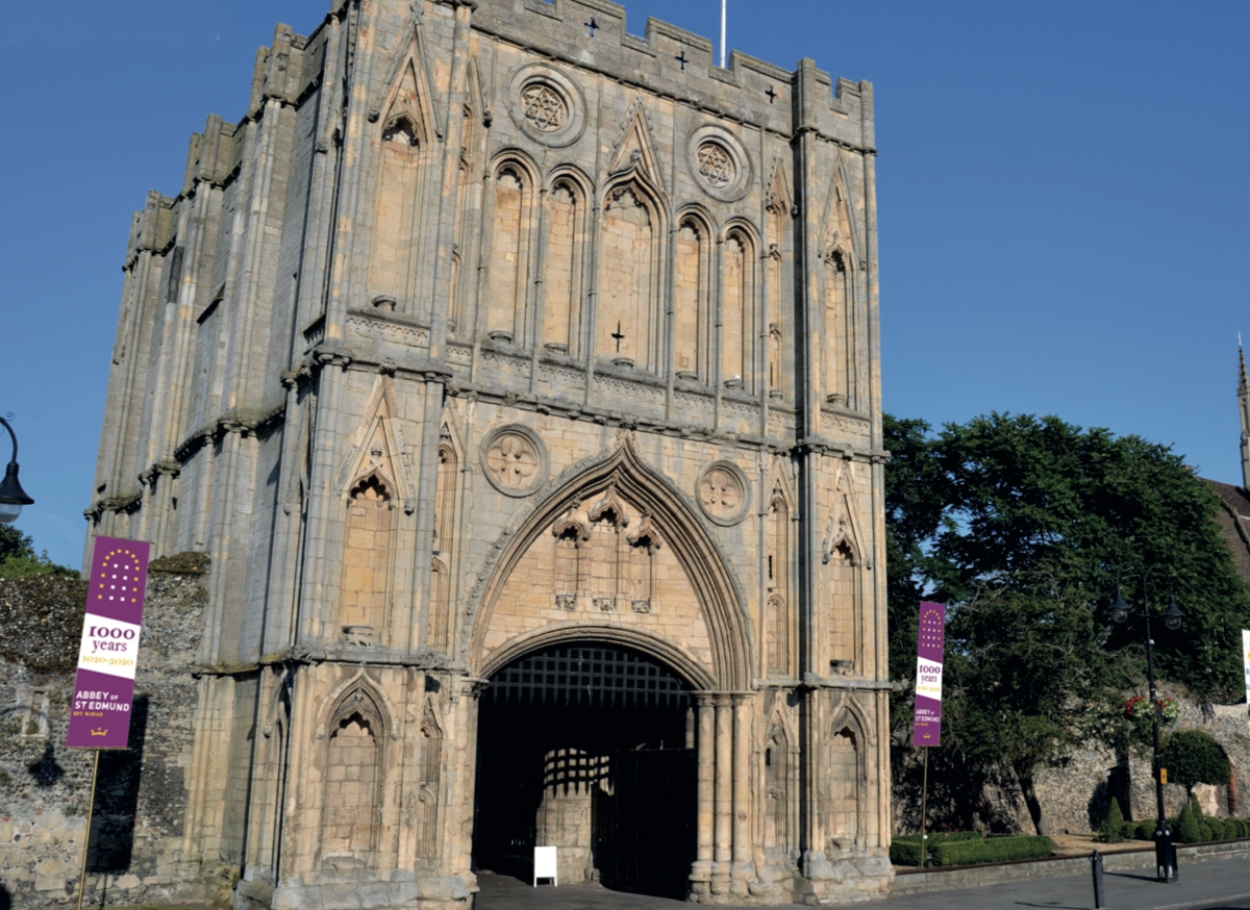 Pilgrimage of Song –  Saturday 30 May
A pilgrimage for all who enjoy walking and singing will start at Chevington Village Hall and make its way to St Edmundsbury Cathedral on Saturday, 30 May. A joint event between Cantus Firmus Trust and the Cathedral, the walk is part of an ongoing series of Pilgrimages of Song in Suffolk. Beginning with a workshop to learn the music for the day, the pilgrims will walk from church to church singing a short service at each. They will follow the old Abbots' Way route from Chevington to Bury through Ickworth Park and Horinger before picking up the Edmund Way ending with Compline at the Cathedral and a hot meal in Pilgrim's Kitchen. Chevington is relevant to the Abbey 1000 as the Abbots once had a retreat centre next to the village church.
Abbey 1000 Sculpture Exhibition – May to November
A monthly changing display of sculptures will be on display between May and November in the crypt within the Abbey ruins, where the shrine of St Edmund would have stood. Schools and artists are being invited to create the artworks on a theme of the story of the Abbey and St Edmund.
The 73rd Aldeburgh Festival Opening Night at St Edmundsbury Cathedral – Friday 12 June
The 73rd Aldeburgh Festival will open at St Edmundsbury Cathedral in Bury St Edmunds, as part of the 1000th anniversary of the Abbey of St Edmund. This will mark the first ever opening night performance at the Cathedral, as well as the first time that Aldeburgh Festival has opened outside of the Suffolk coastal area in over 50 years.
Kings & Queens – A Weekend Celebration in the arc shopping centre – Sat. 27 and Sun. 28 June
A family weekend at the arc shopping centre will celebrate all things Kings and Queens related featuring workshops, street entertainment, storytelling, performances, a crown trail, games and more, plus a fancy dress competition and tea party.
The Abbey of St Edmund: Artisan and Pilgrimage Exhibition at Moyse's Hall Museum – July 2020
A new exhibition is being planned at Moyse's Hall Museum, subject to funding, which will help tell the story of St Edmund and the Abbey. 'The Abbey of St Edmund: Artisan and Pilgrimage' will include original stained glass, new stained glass and original pilgrims' badges. There will also be touch screen displays and facial reconstructions from the past together with family workshops and master classes in medieval craft skills. 
Abbey 1000 Community Celebration – Saturday 11 July
Plans are underway for the Abbey 1000 Community Celebration in the Abbey Gardens for families and the wider community of West Suffolk, organised by West Suffolk Council in July. The event will celebrate the best of the area, while enabling people to learn more about the role and significance of the Abbey of St Edmund in the history of west Suffolk.
Noye's Fludde – Friday 16 and Saturday 17 October
A production of Noye's Fludde will be held in the Cathedral. Working with local schools, it will include the story of the damming of Tayfen Brook in 1290 by one of the Abbots, which caused widespread flooding in Bury St Edmunds and a riot by the townspeople. Noye's Fludde is by Suffolk composer Benjamin Britten.
Suffolk Philharmonic Orchestra Concert – Saturday 24 October
Holst's Planets Suite rubs shoulders with a brand-new attractive work by Paul Carr for soloists, large choir, and full symphony orchestra, commissioned especially for the Abbey's anniversary year. Eye Bach Choir and The English Arts Chorale form the nucleus of a large choir open to experienced choral singers from across Suffolk.
Edmund Day Finale and Spectacle of Light – Friday 20 to Sunday 22 November
Plans are in hand for three evening Spectacle of Light shows projecting images of illuminated manuscripts from the Abbey onto historic buildings plus a light trail through the Abbey ruins in partnership with West Suffolk College.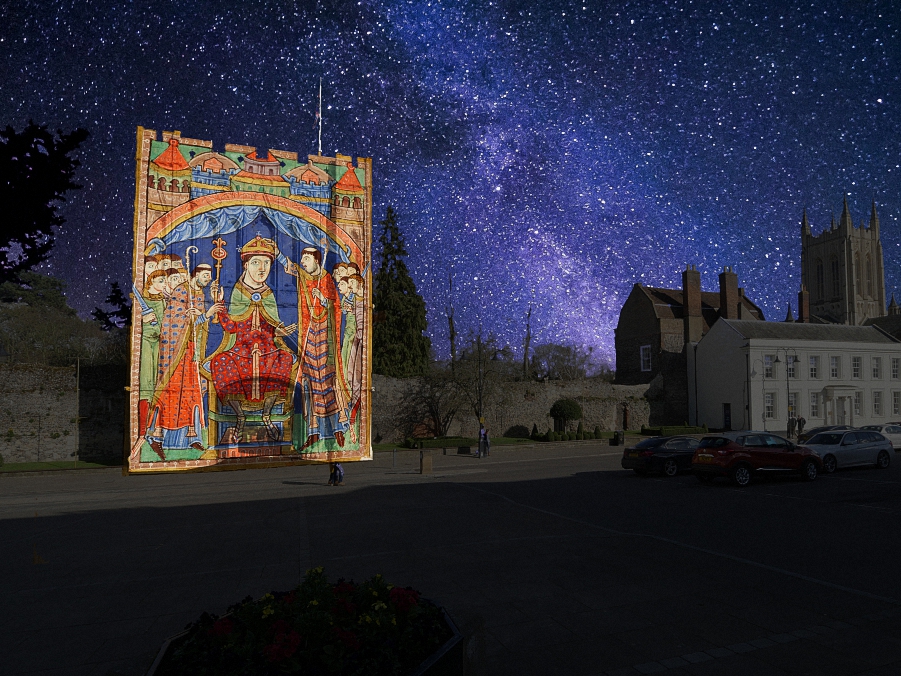 2020 Edmund Lecture – Saturday 21 November
The Millennium Edmund Lecture will be held at the Cathedral on Saturday, 21 November with a special anniversary guest speaker.
Ongoing Projects
Abbey of St Edmund & Shrine of St Edmund in CGI
A fly through video of the Abbey of St Edmund ruins showing how the great Abbey Church and the Shrine of St Edmund would have looked during its heyday is being produced using cutting edge CGI as part of the marketing for the celebratory year.
Abbey of St Edmund Heritage Partnership
A new visitor leaflet and map for the Abbey of St Edmund and an enlarged version of the map of the ruins for the Abbey Gardens is being produced by the Abbey of St Edmund Heritage Partnership. Further research projects will also be looking into the history of the Abbey ruins.
National Trust Ickworth
At National Trust Ickworth plans are underway to include the Abbey in their events calendar for 2020 including children's activities looking at its history.
Greene King Brewery
Greene King Brewery will be celebrating the milestone with Abbey 1000 activity around its famous Bury St Edmunds brewed beer, 'Abbot Ale'.
East Anglian Tour Guides Association annual weekend
Bury St Edmunds Tour Guides will be hosting the 2020 East Anglian Tour Guides Association Annual Conference in the autumn of the anniversary year with delegates coming from towns across East Anglia and London. The weekend will give the town and immediate area a chance to showcase what it has to offer visitors, broadening the guides knowledge and hopefully attracting more tour groups into the area.