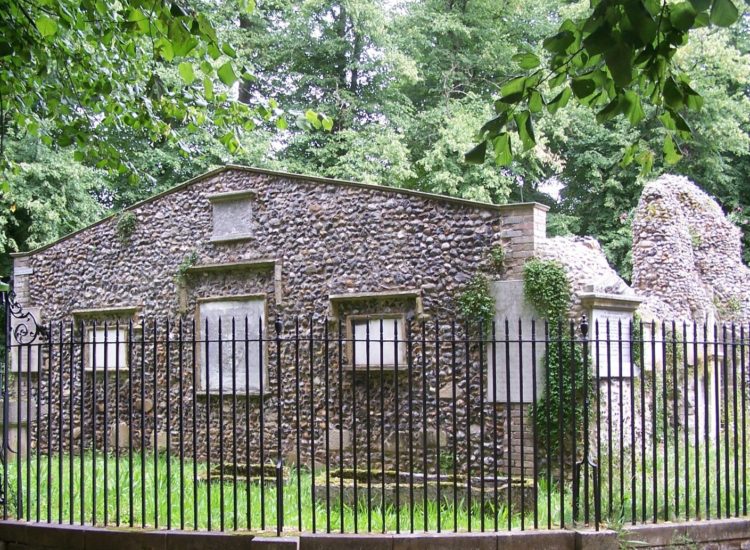 A Final Resting Place
By Martyn Taylor
One of only a surviving handful in this country, the Chapel of the Charnel was a consecrated bone depository for skeletal remains uncovered when a new grave was being dug. Once two storeys, the chapel was founded by Abbot John De Northwold in 1300 concerned for the irreverence shown towards the unwanted occupants, he observed "they were indecently cast forth and left". Two chaplains conducted services here on a regular basis.
With the dissolution of the monasteries in 1539 Le Charnelle (aka) became an alehouse but in 1637 being described as 'a common nuisance' it subsequently became a blacksmiths forge. Banker John Spink considered purchasing it as a family mausoleum, unfortunately his bank in Buttermarket collapsed, the final transaction unfinished, a painting of around 1790 showing him holding the uncompleted conveyance document can be seen in the Guildhall.
Commemorative plaques on the Charnel's exterior include John Boldero, gargantuan landlord of the Angel Hotel, Mary Haselton struck down by lightening whilst saying her prayers at the tender age of nine years old, Henry Cockton erstwhile Victorian author and Bartholomew Gosnold founder of Jamestown in 1607, are all recorded here. Gosnold's daughter, Martha (Martha's Vineyard) is buried somewhere in the Great Churchyard, but where? However, the most poignant plaque is that of Sarah Lloyd hanged in 1800 for burglary at the youthful age of 19. Her sombre epitaph here cautions those of errant ways, "may my example be a warning to thousands." The chapel now surrounded by railings, had a very strange event occur here in 1844 when some poor soul walking across the crypt fell through the floor onto a bed of bones!
For details of the events to celebrate the Abbey's 1000th anniversary visit www.abbeyofstedmund1000.co.uk which will be updated throughout the year!
Similar articles
27th May 2022
A dramatic recreation by Robert Lloyd Parry of M R James' 1932…
---
6th May 2022
Bury Water Meadows Group (BWMG) will be hosting a BioBlitz on Saturday…
---
2nd May 2022
Seven medieval manuscripts have gone on display at the abbey where they…
---
View all news