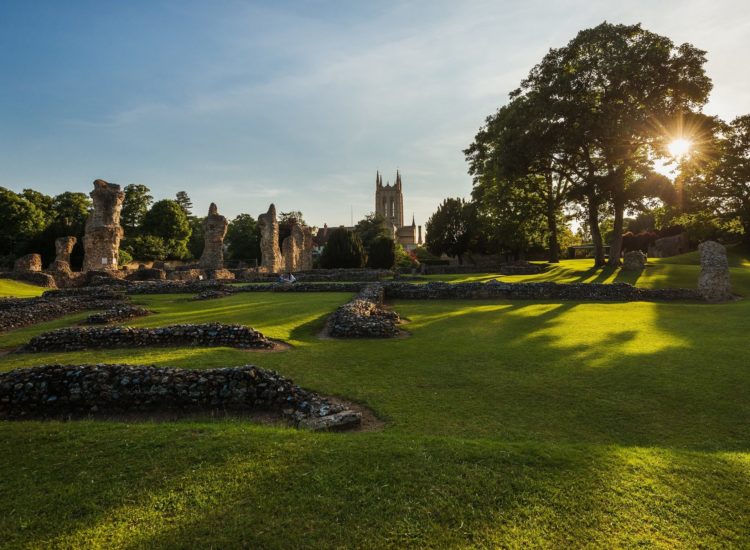 Abbey 1000 Events in Bury St Edmunds
April sees the beginning of Bury St Edmunds exciting programme of special events marking the founding of the Abbey of St Edmund by King Canute 1000 years ago. The celebrations will culminate on the Saint's feast day weekend of 20 November 2022. Nine important events from the programme also have support from The National Lottery Heritage Fund.
Key events planned for April and May are listed below, while the full year's programme can be viewed at www.burystedmundsandbeyond.co.uk/abbey-1000. More are likely to be added and will be announced soon:
Abbey of St Edmund Anniversary Tours –  April – 31 October
Bury St Edmunds Town Guides' season of daily walks runs from 1 April to 31 October,
some of which are Abbey-specific having been written by the guides as part of the Abbey 1000 celebrations. Devised for visitors who want to discover more about the Abbey and its history, these tours drill down deeper into the past and its legacy today. Titles include Abbey Habits; Dark Side of the Abbey; Circling the Abbey; Legacy of the Abbey and Bitesize Abbey; there is also a tour especially for the young or young at heart. Pre-booking essential and tour fees apply.
Ely Pilgrimage – 4 – 5 April 
A group of walkers will be making a pilgrimage from Ely Cathedral to St Edmundsbury Cathedral in Bury St Edmunds arriving on 5 April in time for the Pilgrimage Day on April 6. They will follow a route taken by the Abbey's Benedictine founders in 1020.
Pilgrimage Day – 6 April
Pilgrimage Day is a day of talks, discussion, and practical information on the history of pilgrimage to Bury St Edmunds and its relevance today.
Throughout the day, attendees will move to different locations for each part of the programme, culminating in a short service in the Abbey ruins.
Abbey 1000 Sculpture Exhibition – May-November FREE to view
A monthly changing display of sculptures will be on display between May and November in the crypt within the Abbey ruins, where the shrine of St Edmund would
have stood. Schools and artists are being invited to create the artworks on a theme of the story of the Abbey and St Edmund. The first sculpture to be installed will be a giant
Monk (7ft 6ins tall) made from 2mm thick steel and weighing some 250kg designed by Nigel Kaines and made by blacksmith Kevin Baldwin from Designs on Metal.
Exhibition of Abbey Manuscripts in Cathedral Treasury – 2 May-8 June
Seven manuscripts from the Abbey Scriptorium are being reunited for the first time in their place of origin since 1539. Hand written and decorated by monks in the Abbey, they will be displayed in the Cathedral Treasury. The manuscripts are on loan from Pembroke College, Cambridge where they were donated by William Smart (Portreeve of Ipswich) in 1599. The exhibition will run from 2 May until 8 June.
Pilgrimage from St Benet's Abbey, Norfolk – 9-13 May
A group of walkers will be making a pilgrimage from St Benet's Abbey, Norfolk to St Edmundsbury Cathedral in Bury St Edmunds arriving on 13 May. In 1020 twenty monks were asked by King Canute to set up the Abbey of St Edmund.  They came from Sr Benet's Abbey and from Ely. This pilgrimage is a way of honouring these monks and the many pilgrims who later came to the Abbey during the Middle Ages.
Pilgrimage of Song – 14 May
A 7-mile walking route along the old Abbot's Way from Chevington to St Edmundsbury Cathedral in Bury St Edmunds singing a sort service at churches along the way.
Abiding Wisdom – Gathering of Benedictine monks and nuns in Cathedral and Abbey ruins – 14-15 May
A gathering of Benedictines in Bury St Edmunds for the first time in 500 years since the dissolution of the monasteries. Monks and nuns from Benedictine communities around Britain and other countries, with lay Benedictines and speakers (including Rowan Williams, former Archbishop of Canterbury), will explore the wisdom of Benedict for 21st century living. The weekend will include ecumenical worship, fellowship, celebration and a procession into the Abbey ruins.
Bury St Edmunds BioBlitz – 21 May
Bury Water Meadows Group will invite nature lovers and budding ecologists to join in a hunt for as many species of plant, insect and animal that can be found in the Abbey precinct. Specialists in everything from buttercups to bumble bees to bats will be on hand to confirm findings, give demonstrations and lead guided walks and activities.  The BioBlitz takes place in and around the Abbey Gardens and Water Meadows, on 21 May.
M R James on The Abbey Church at Bury – 26 May
A recreation of M R James' lecture on the Abbey of St Edmund
M R James is best known for his ghost stories, but his work as a medievalist scholar remains highly respected in scholarly circles and researching the Abbey of St Edmund was a lifelong passion.
M R James' seminal lecture on the Abbey of St Edmund was delivered at the Athenaeum on Thursday, 21 April 1932, and 2022 will mark the 90th anniversary of his lecture.
The handwritten notes of his lecture were found in Cambridge University Library by Richard Hoggett (RH) in 2018 while preparing the Abbey Heritage Assessment. Historian Dr Richard Hoggett transcribed the notes in February 2018, and edited and published them in the Proceedings of the Suffolk Institute of Archaeology and History in 2020.
On May 26 a recreation of James' Athenaeum lecture will be given as part of the Abbey 1000 celebrations. Robert Lloyd Parry, a performance storyteller of M R James' ghost stories, will give a dramatized reading of the lecture, introduced by Dr Richard Hoggett.
Rachmaninov Vespers – 27 May
When the Abbey of St Edmund was established in the year 1020, the glorious sounds that rang through its mighty arches were those of plainsong, the already ancient musical treasure of the Church. Plainsong would be sung by the monks every day in the cycle of the daily services known as the 'offices'. The great abbeys of Christendom shared the experience of these uplifting yet strangely calming sounds. The Abbey of St Edmund, one of the greatest of them all, would have rung with this music day and night.
In 1915 the great Russian composer Sergei Rachmaninov turned aside from the writing of his magnificent piano concertos and symphonies, and created focused on the plainsong tunes of a chain of services known as "the All-Night Vigil", (but often referred to as the "Vespers") weaving a rich and complex galaxy of choral sound around the plainsong tunes – a kind of choral "orchestra" with the choir sometimes in as many as twelve parts, but always built around the ancient plainsong tunes.
As the sun goes down on Friday 27 May, The English Arts Chorale and Eye Bach Choir sing an hour's glorious choral music from this magnificent and awe-inspiring galaxy of sound in the most appropriate of all venues – St Edmundsbury Cathedral. With an atmosphere more that of a liturgical event than a concert, admission to this remarkable and rare event is free of charge.
Into The Light Concert at St Edmundsbury Cathedral – Elgar's Enigma Variations and the Abbey 1000 Commission – 28 May
The 10th anniversary of the Suffolk Philharmonic Orchestra. The professional orchestra will present the Into The Light Concert at St Edmundsbury Cathedral
featuring Elgar's Enigma Variations, including the best-known 'Nimrod', will be played as well as an attractive new work specially commissioned for Abbey 1000, Into The Light by composer Paul Carr. The programme also includes Benjamin Britten's Fanfare for St Edmundsbury and Parry's I Was Glad. From 7.30pm. Sponsored by Home Instead Bury St Edmunds.
Abbey 1000 Heritage Trail – 30 May-20 November FREE trail
Our Bury St Edmunds BID and historian and author Martyn Taylor have created a brand new Abbey 1000 Heritage Trail around the town centre for 2022. The trail will run from 30 May to 20 November.
For more information visit www.burystedmundsandbeyond.co.uk/abbey-1000.
Similar articles
27th May 2022
A dramatic recreation by Robert Lloyd Parry of M R James' 1932…
---
6th May 2022
Bury Water Meadows Group (BWMG) will be hosting a BioBlitz on Saturday…
---
2nd May 2022
Seven medieval manuscripts have gone on display at the abbey where they…
---
View all news