English Heritage reconstruct the Abbey Church in its splendour
The Abbey of St Edmund Heritage Partnership organised an English Heritage Presentation followed by a modest Christmas Social today, on Wednesday 15 December.  This was at The Guildhall, Bury St Edmunds and followed Covid precautions regarding masks, social distancing and sanitizing.
The event started with a brief address by the Very Reverend Joe Hawes, Dean of St. Edmundsbury.  He spoke of his vision for the whole Abbey area which would be achieved by working together with lots of other local organisations,  including the Abbey Heritage Partnership and the local councils.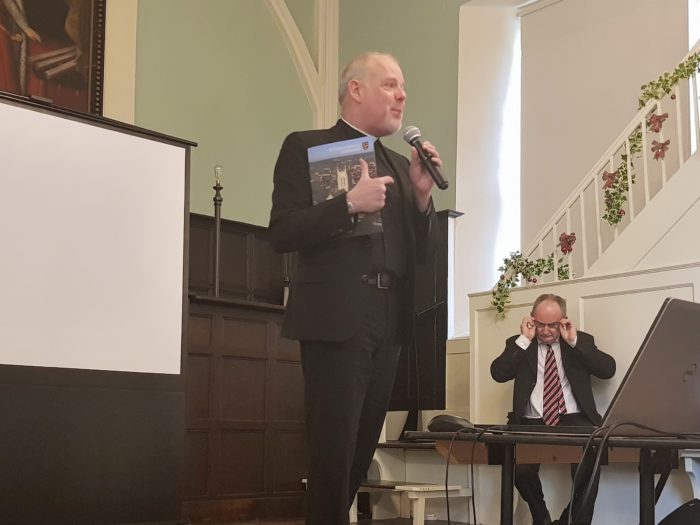 The Dean and a vision for the future of the whole Abbey area
The presentation of new reconstruction work by Stephen Brindle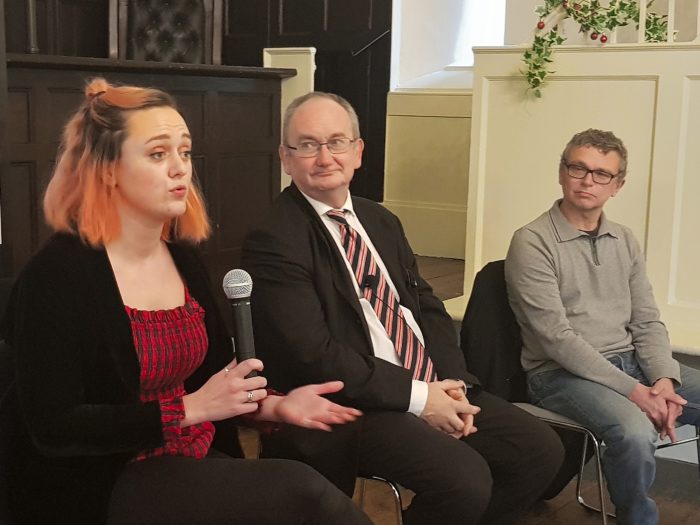 Jess Freeland, Steven Brindle and Carlos Lemos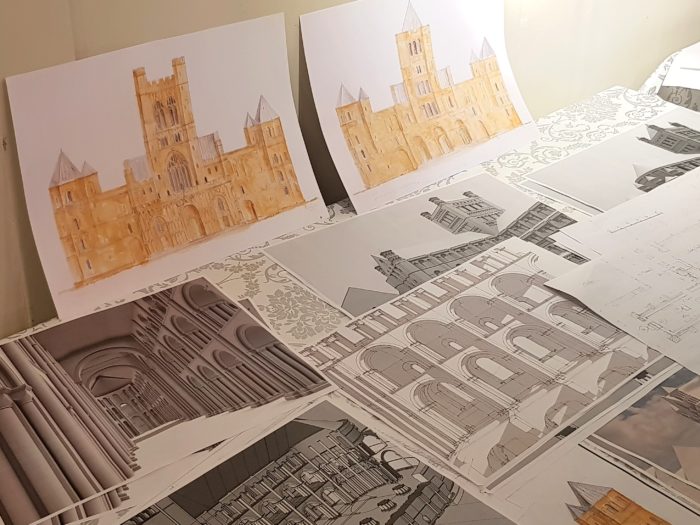 Some of the different aspects of the Abbey that the English Heritage team have been working on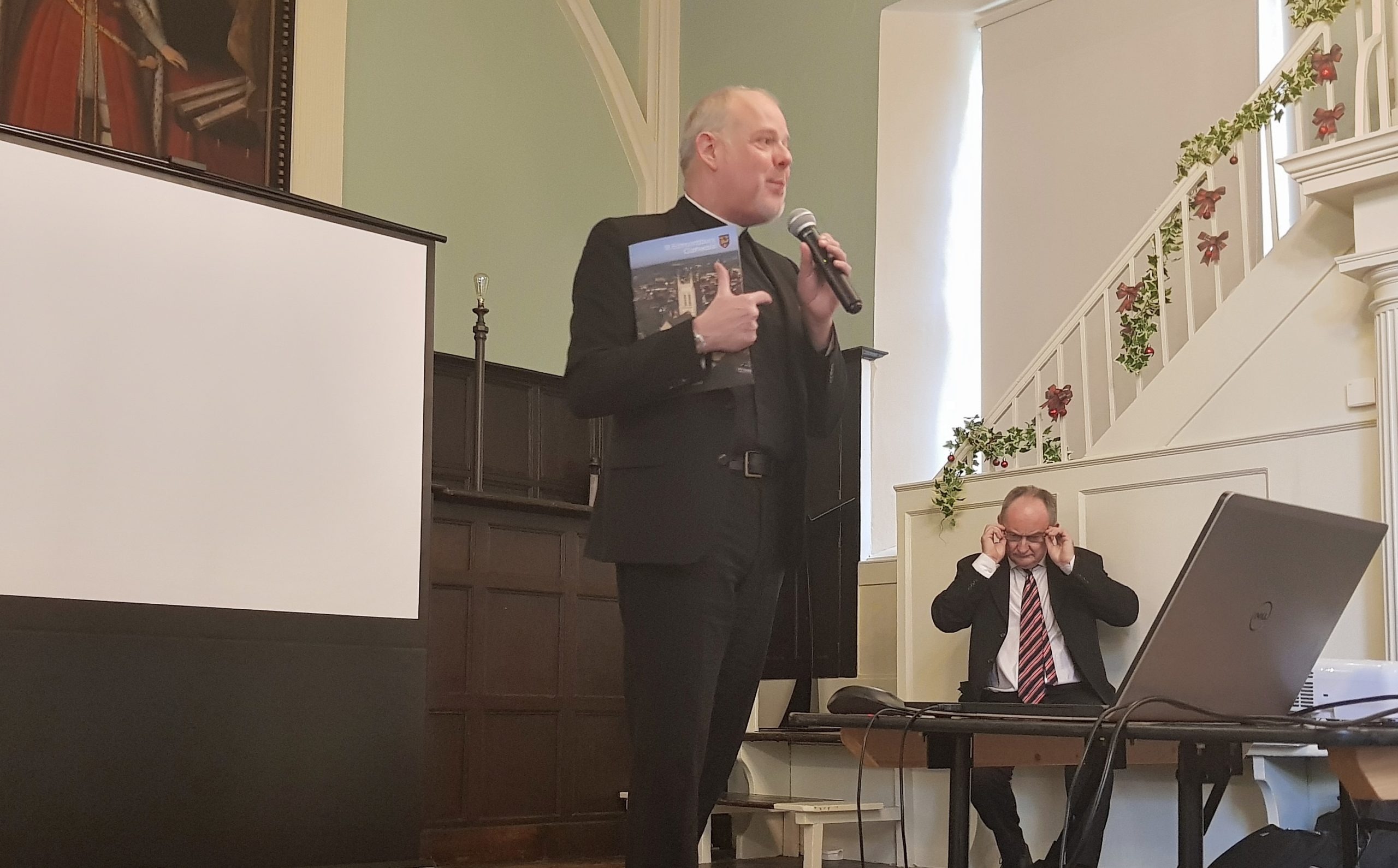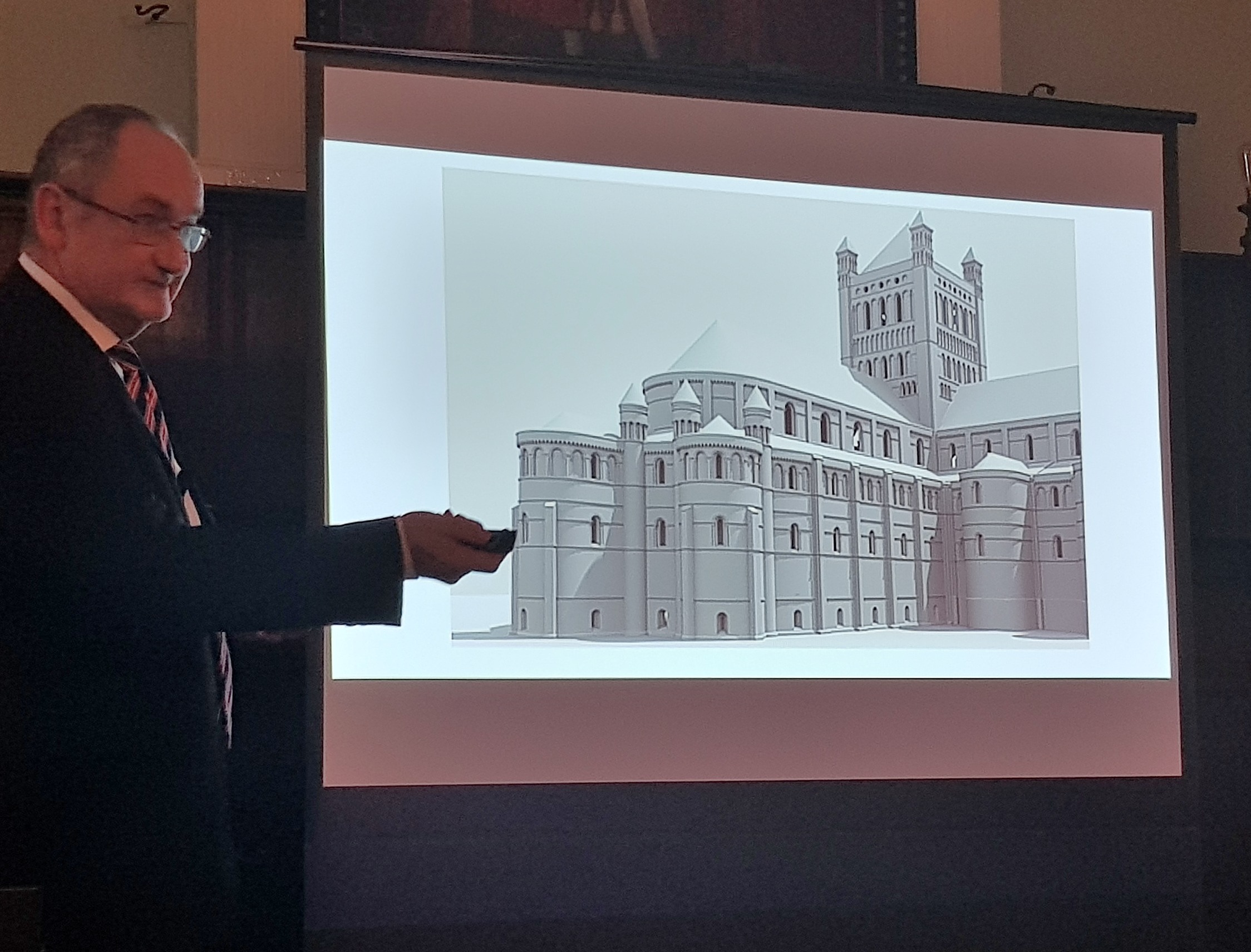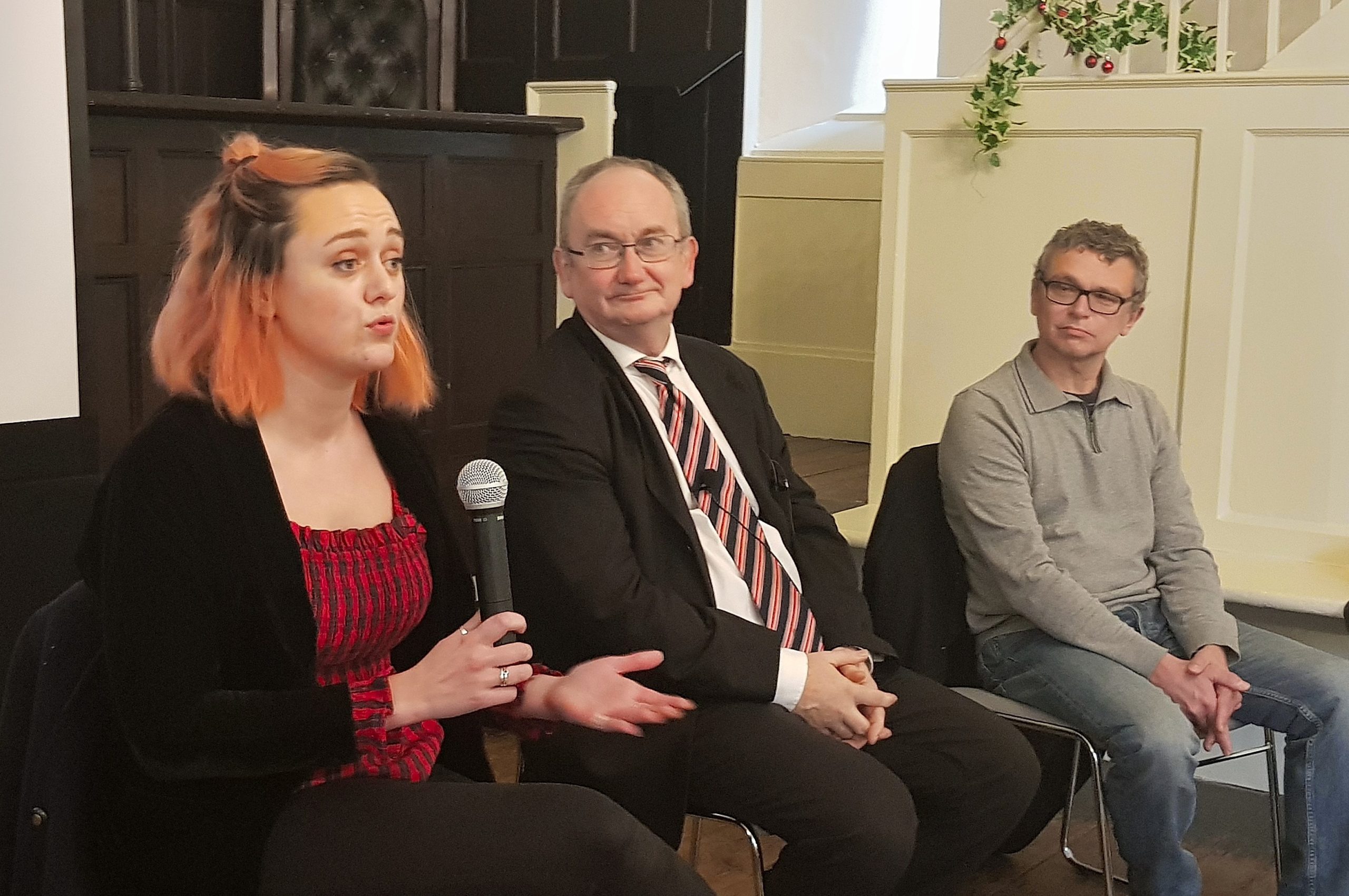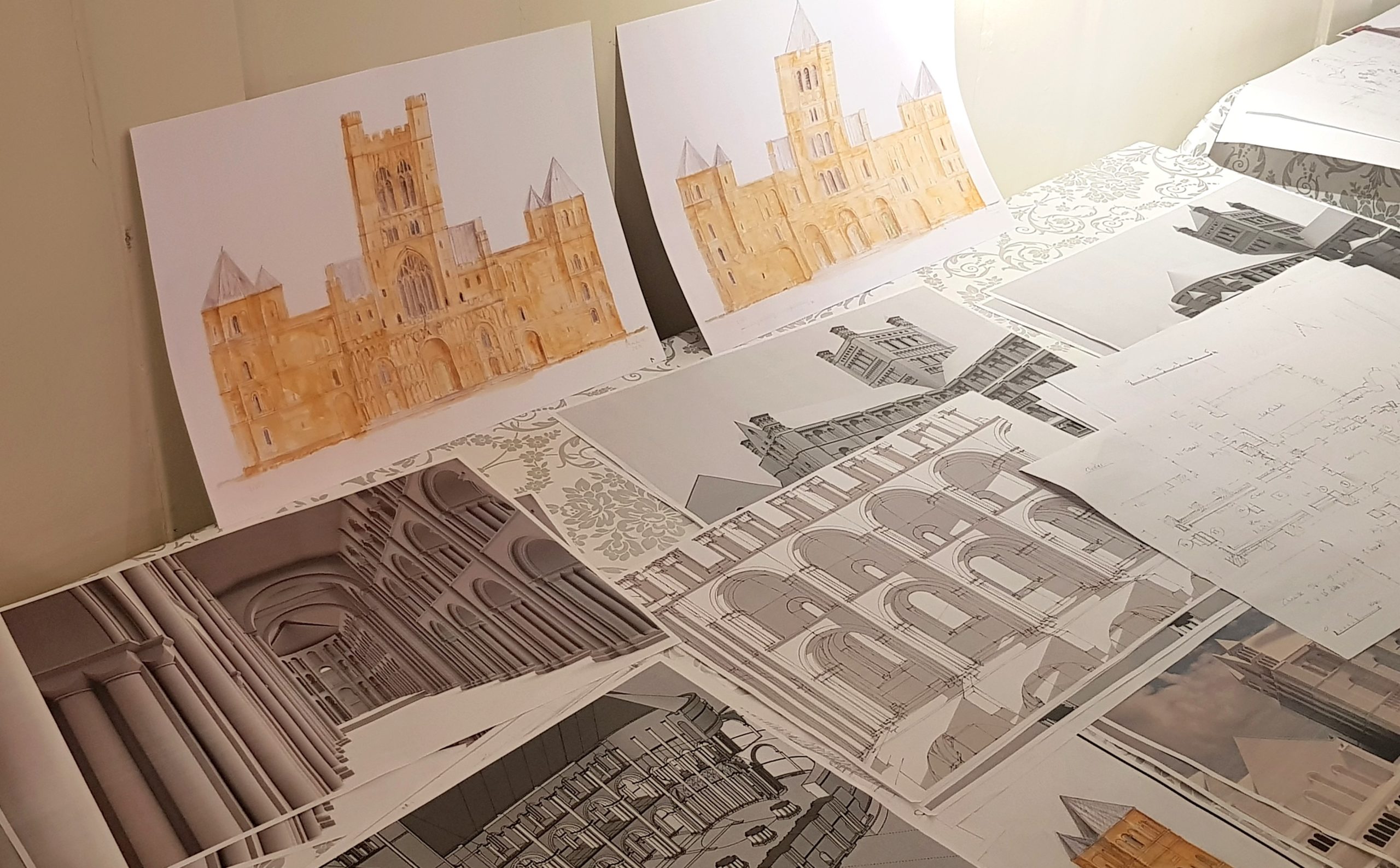 The main feature of the morning was the 'work in progress' on heritage interpretation of the Abbey of St Edmund by Jess Freeland(English Heritage Interpretation Manager – Free sites), Steven Brindle(English Heritage Senior Properties Historian), and Carlos Lemos (English Heritage Graphics Manager).  Stephen presented his 'Bury St Edmunds Abbey: Reconstructing the Abbey Church' which was received by a fascinated audience. He finished by saying:
"We intend to publish this work in an academic forum, because of Bury's importance in architectural history – and because the research effort involved, and the new evidence for the abbey church gained seem to justify this.
We are open to discussions with the Abbey of St Edmund Heritage Partnership, about ways of using and developing this work for the future – and extending the scope of the work to the rest of the abbey site."
A lively question and answer session followed the presentation.  The event closed, after some light refreshments and informal discussion and with a guided tour of the Guildhall.
It was agreed that it had been a very special day for the story of the Abbey of St Edmund.
Similar articles
27th May 2022
A dramatic recreation by Robert Lloyd Parry of M R James' 1932…
---
6th May 2022
Bury Water Meadows Group (BWMG) will be hosting a BioBlitz on Saturday…
---
2nd May 2022
Seven medieval manuscripts have gone on display at the abbey where they…
---
View all news