Plans for Pilgrimage Day unveiled
Wednesday 6 April – Part of Abbey 1000 celebrations
 As part of the Abbey 1000 celebrations, plans for a Pilgrimage Day on Wednesday 6 April have been announced.
Pilgrims have been coming to Bury St Edmunds for over 1,000 years. The Shrine of Saint Edmund in the town attracted pilgrims from this country and all over Europe until the dissolution of the monasteries in 1539.
Starting at St Edmundsbury Cathedral, the Pilgrimage Day will be a chance to re-discover Bury St Edmunds as a place of pilgrimage, explore how it could once again become a popular centre of pilgrimage and the impact this would have on the town.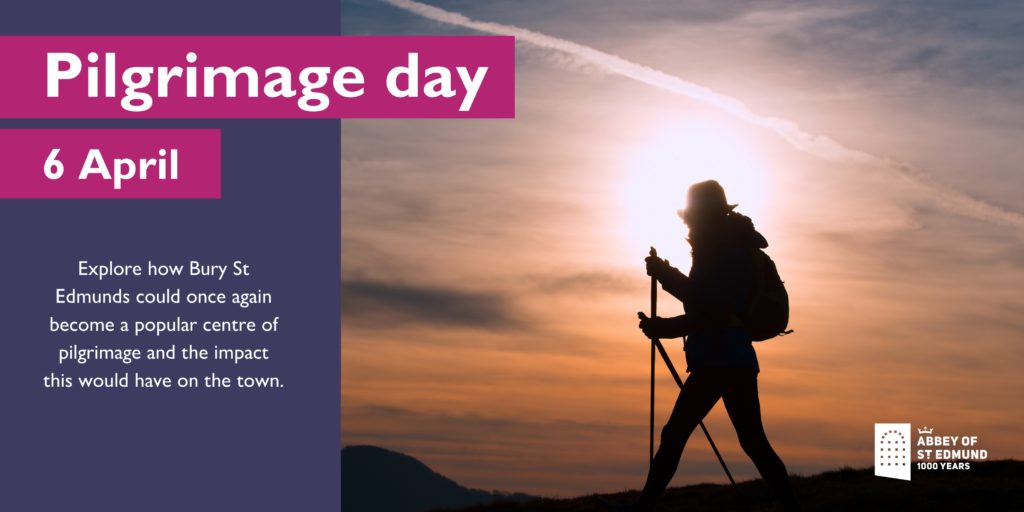 The day from 9.30am to 5pm will include talks, panel discussion and practical information on pilgrimages past, present and future routes leading to Bury St Edmunds. Throughout the day, participants will move to different locations for each part of the programme, culminating in a short service in the Abbey ruins.
Among the guest speakers will be Dr Rebecca Pinner, Associate Professor in Medieval Literature at University of East Anglia; Guy Hayward, of the British Pilgrimage Trust; Adrian Tindall, Chairman of Bury St Edmunds Tour Guides; and Canon Peter Doll, from Norwich Cathedral.
The event is free to attend.
Libby Ranzetta, Chair of Abbey 1000 C.I.C, which is organising the 1,000th anniversary celebrations, said: "Pilgrimage is enjoying a resurgence in popularity, as people seek more contemplative, meaningful and environmentally sustainable activities. Bury St Edmunds, in the midst of Suffolk's great network of footpaths and with so much offer in the town and surrounding area, has the potential to be a major pilgrimage destination once again. On April 6 we will celebrate Bury's historical significance as a centre of European pilgrimage and explore how we can best encourage more modern-day pilgrims to turn their walking boots towards Suffolk."
Participants can join particular sessions which interest them. A soup lunch is optional but must be pre-booked. Donations (suggested £5) can be made on the day.
Booking is essential. For further information and to book visit www.abbeyofstedmund1000.co.uk
Pilgrimage Day Outline Programme
From 9.30am – Coffee/tea in Pilgrims' Kitchen at St Edmundsbury Cathedral
10am – Welcome and talk 'Bury St Edmunds as a medieval centre of pilgrimage' – Dr Rebecca Pinner (Edmund Room)
11am – Move to St Edmund's RC Church
11.15am – 'Modern day pilgrimage' – Guy Hayward, British Pilgrimage Trust
11.40am – 'Why come to Bury St Edmunds on pilgrimage today' – Adrian Tindall, town guide
12noon – 'Bury St Edmunds and the great pilgrim routes: panel discussion' with Andy Bull (Confraternity St James); Mary Kirk (Confraternity of Pilgrims to Rome); Guy Hayward (BPT)
12.30pm – Lunch (please book)
1.30pm – Move to St Mary's Church
1.45pm – Pilgrimage infrastructure: routes; paths and signage, accommodation enroute, transport links
2.45pm – The benefits – social, economic and to the visitor economy
3.15pm – Move to the Edmund Room, St Edmundsbury Cathedral
3.30pm – Learning from elsewhere: Canon Peter Doll, Norwich Cathedral
3.55pm – Our aims and how to achieve them
4.15pm – Move to the Abbey Ruins
4.30pm – Edmund Vespers
Walking between venues is encouraged. For those requiring it, transport can be provided by Bury St Edmunds Rickshaw (free of charge).
Two new pilgrimage resources will also be launched on 6 April.
A family friendly leaflet encourages pilgrims of all ages to follow in the historic footsteps of pilgrims through the streets of the town and into the Abbey Gardens, using their senses to see the town through pilgrim eyes.
'Pilgrim Paths' includes ten ideas for pilgrimage routes, leading to Bury St Edmunds, ranging in length from ½ mile to 80 miles.  Both resources have been funded with support from a Heritage Grant from The National Lottery Heritage Fund and were produced in conjunction with Suffolk-based designers Drab Ltd, Xtrahead and Kingfisher Press Ltd.
Two pilgrimages have been organised as part of the Abbey 1000 celebrations to mark the route taken by monks from Ely and St Benet's Abbey in Norfolk to found the Abbey of St Edmund in 1020. The Ely Pilgrimage takes place on 4 and 5 April and a pilgrimage from St Benet's Abbey takes place from 9 to 13 May.
For all who enjoy walking and singing. A Pilgrimage of Song takes place on 14 May, a walk from Chevington to St Edmundsbury Cathedral, singing a service at churches along the way. Details of these events and all the events planned can be found at
www.abbeyofstedmund1000.co.uk.
The Abbey 1000 celebrations have been supported by a Heritage Grant from The National Lottery Heritage Fund and from Bury St Edmunds Town Council and West Suffolk Council. The celebrations' commercial headline sponsors are CLAAS UK, Greene King and Treatt.

Similar articles
27th May 2022
A dramatic recreation by Robert Lloyd Parry of M R James' 1932…
---
6th May 2022
Bury Water Meadows Group (BWMG) will be hosting a BioBlitz on Saturday…
---
2nd May 2022
Seven medieval manuscripts have gone on display at the abbey where they…
---
View all news