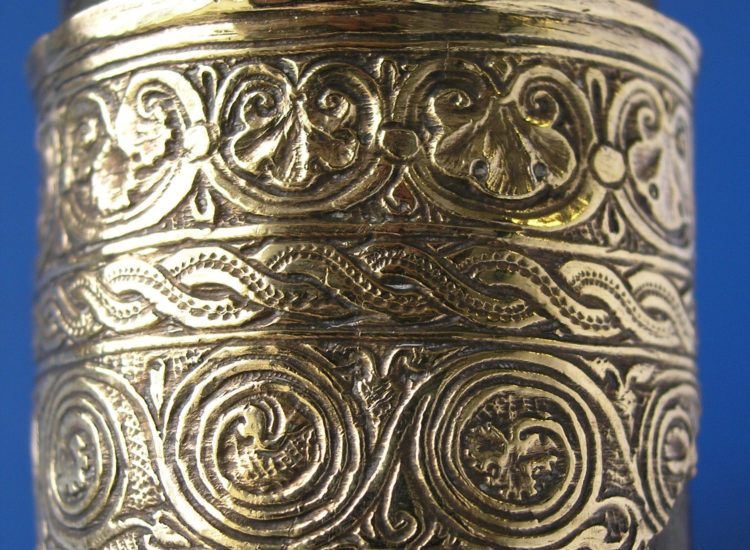 The Abbots of the Abbey of St Edmund
By Martyn Taylor
With the ousting of twelve secular monks from the Abbey in 1020,  King Cnut installed thirteen monks from St Benet Hulme and seven from Ely, all Benedictine this coincided with his founding of his rotunda church dedicated to St Mary. The first Abbot was Uvius sometimes called Uvi,  he had been Prior of St Benet,  his appointment would see a succession of heads of the Abbey culminating with its 32nd and last Abbot, John Reeve in 1539. The Abbots who built the abbey church, Baldwin, Anselm and Samson are the most familiar to history, but there were others who contributed in their small but significant way.
In some cases it was common for those holding important terms of office within the abbey to step up to the plate to become Abbot, this happened to Simon of Luton who was both Sacrist and Prior in the abbacy of Edmund of Walpole, Simon becoming Abbot on the death of Edmund. Others to succeed to the top spot were Richard de Insula and Robert of Ixworth, as Priors and Sacrists over time. Within the convent it was important that any election had to be transparent though I am sure there would have been manoeuvrings and collusions to ensure the right person got the job.
Anselm's abbacy only became a reality in 1121 because Ording acquiesced allowing that to happen. Ording finally fulfilling his destiny after Anselm's death in 1128 though only for eight years. Two Abbots in particular had very eventful abbacies, Hugh of Northwold one year into his role in 1215 had to contend with the barons clandestine meeting at Edmunds Shrine and the other, the hapless Richard De Draughton when kidnapped during the riots of 1327.
There was only one real dispute in the election of an Abbot that of the 22nd, Edward Bromfield appointed by the Pope in 1379.  King Richard II refused to acknowledge  this and promptly clapped  the luckless Bromfield into the Tower of London where he languished for five years. Richard's inflexibility would culminate in the Peasants Revolt of 1381 and bringing grief to the town. The strange thing about it all is that the monks themselves had  elected John de Tymworth as early as 1379, technically two abbots in charge at once!
Similar articles
27th May 2022
A dramatic recreation by Robert Lloyd Parry of M R James' 1932…
---
6th May 2022
Bury Water Meadows Group (BWMG) will be hosting a BioBlitz on Saturday…
---
2nd May 2022
Seven medieval manuscripts have gone on display at the abbey where they…
---
View all news